Meet the Triton CORE Team
The Triton CORE team is composed of licensed behavioral health professionals.
MORE ABOUT THE TEAM

New Mobile Mental Health Crisis Team Launches at UC San Diego
The Triton Compassionate Response team works in partnership with Campus Police to support students in crisis.
VIEW ARTICLE
Previous
Next
Important Notice
The Triton CORE team's current hours of operation are Monday–Friday between 10am–10pm.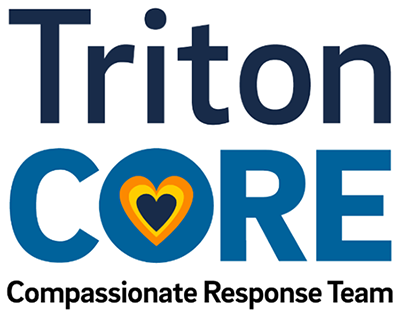 About Triton CORE
Triton CORE is a mobile response team at UC San Diego that provides compassionate intervention and support to students experiencing a behavioral health crisis. The Triton CORE team is composed of licensed behavioral health professionals equipped to engage in mobile crisis response, conduct behavioral health wellness checks, and can provide in-person or telehealth assessment for students facing behavioral health challenges, substance use related crises, and other forms of distress. See more related to What Triton CORE Does.
You can also learn more about Triton CORE Values focused on providing person-centered care.
WHO TRITON CORE SERVES
At this time, Triton CORE only serves current students that are physically on campus.
Please see additional resources for non-students and students who are off-campus.

WHO CAN ACCESS TRITON CORE
Anyone can call and request a Triton CORE response for students that are on campus. Below are helpful tips for accessing support for:
HOW TO ACCESS TRITON CORE
UCSD Police Department Dispatch
(858) 534-HELP (4357)
Be sure to request the Triton CORE team

and be ready to answer a few basic safety questions. 
Counseling & Psychological Services 
(858) 534-3755
Available 24/7 by phone.

Connect with counseling staff or after-hours crisis counselor.

Operated by UC San Diego.
988
National crisis hotline available 24/7 by phone or text.

Connect with a counselor.

If appropriate, in-person resources may be dispatched.

Not operated by UC San Diego.
Protocall Crisis Counseling Line
Coming Soon
---
Students may also self-present to Urgent Care at CAPS in Galbraith Hall between 8am—10pm Monday—Friday to access emergency mental health services.
The Triton CORE team's current hours of operation are Monday–Friday between 10am–10pm. 
Outside of these hours, operating procedure remains with UCPD responding to all calls coming through dispatch.
TYPES OF CALLS TRITON CORE CAN RESPOND TO:
Triton CORE will respond to
Non-violent calls for individuals experiencing behavioral health crisis such as:
Thoughts of wanting to disappear

W

ishing to go to sleep at not wake up

Thoughts of wanting to harm myself or end my life

Thoughts of wanting to harm others

Experiences as though you are seeing or hearing things that other people may not be able to see or hear

Difficulty accessing food, clothing shelter due to an increase in your mental health symptoms

Any other symptoms requiring a behavioral health response

In-person or virtual wellness check-ins
Triton CORE cannot respond to:
Calls where imminent safety concerns exist such as: 
Active Suicide Attempt

Active

Shooter/Violence

Actively using a lethal weapon

Active self-injury with a weapon

Relationship Violence (

Intimate Partner Violence

)

Active

Fire/ Hazardous Material

Medical Emergencies
All of these calls will continue to be responded to by UCPD.
LAND ACKNOWLEDGEMENT
The UC San Diego community holds great respect for the land and the original people of the area where our campus is located. The university is built on the un-ceded territory of the Kumeyaay Nation. Today, the Kumeyaay people continue to maintain their political sovereignty and cultural traditions as vital members of the San Diego community. We acknowledge their tremendous contributions to our region and thank them for their stewardship.