Important Notice
Please note that during this pilot phase, the Triton CORE team is currently only available between 1:30pm–10:00pm Tuesdays and Wednesdays.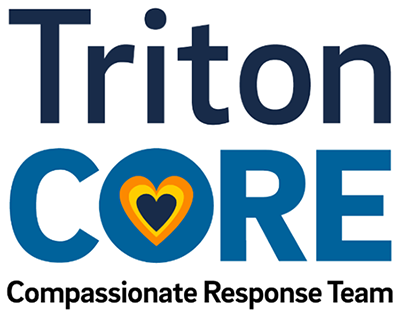 About Triton CORE
Triton CORE  is UC San Diego's crisis response team of mental health professionals that provides compassionate mobile crisis response, mental health wellness checks,  and telehealth assessment for students facing mental health challenges, substance use related crises, and other forms of distress. See more related to What Triton CORE Does.
You can also  learn more about Triton CORE Vision. Mission and Values focused on providing person-centered care.
HOW TO ACCESS TRITON CORE
Protocall Crisis Counseling Line
Coming Soon
UCSD Police Department Dispatch
858-534-4357
Be sure to request the Triton CORE team and be ready to answer a few basic safety questions. You may choose to share only your first name.
---
Students may also self-present to Urgent Care at CAPS in Galbraith Hall between 8 a.m. - 4 p.m. Monday-Friday to access emergency mental health services.
Please note that during this pilot phase, the Triton CORE team is currently only available between 1:30pm–10:00pm Tuesdays and Wednesdays.
Outside of these hours, operating procedure remains with UCPD responding to all calls coming through dispatch.
TYPES OF CALLS TRITON CORE CAN RESPOND TO:
Triton CORE will respond to
Non-violent calls for individuals experiencing behavioral health crisis such as:
Suicidal ideation/behaviors that are non-life threatening/ lethal
Homicidal ideation that does not present imminent risk to others
Disorientation, delusional thinking, mania, and unusual behaviors
Symptoms of intoxication
Symptoms of grave disability
Any other symptoms requiring a behavioral health response
Mental Health Wellness Checks
Triton CORE can not respond to:
Calls where imminent safety concerns exist such as: 
Active Suicide Attempt
Active shooter/violence
Brandishing of a lethal weapon
Active self-injury with a weapon
Relationship Violence (DV)
Active Fire/ Hazardous Material
Medical Emergencies 
All of these calls will continue to be responded to by UCPD and (if applicable) Emergency Medical Services
Calls outside of the Triton CORE current operating schedule (1 p.m. - 10 p.m. Mon- Friday).
WHO TRITON CORE SERVES
Triton CORE currently is only able to serve students who are physically on campus. See map of service area.
Please see additional resources for non-students and students who are off-campus.
WHO CAN ACCESS TRITON CORE
Anyone can call and request a Triton CORE response for students that are on campus. Below are helpful tips for accessing support for:
SUPPORT A STUDENT IN CRISIS
Review our 5 steps to support a student in crisis (Framwork from NHI Suicide Prevention Website).
See What to Look Out For for specific symptoms and do's and don'ts for students experiencing depression, anxiety, behaviors outside of reality and suicidal ideation.
LAND ACKNOWLEDGEMENT
The UC San Diego community holds great respect for the land and the original people of the area where our campus is located. The university is built on the un-ceded territory of the Kumeyaay Nation. Today, the Kumeyaay people continue to maintain their political sovereignty and cultural traditions as vital members of the San Diego community. We acknowledge their tremendous contributions to our region and thank them for their stewardship.